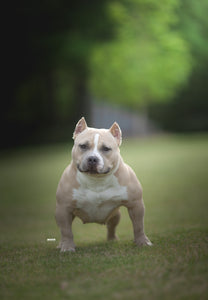 HOW TO STACK A DOG FOR A DOG SHOW
Stacking is the term used to describe the process of positioning a dog in a way that enhances its appearance and highlights its best features during a dog show. Here are the steps to stack a dog for a show:
1. Start by placing the dog on a non-slip surface, such as a rubber mat. Make sure the dog is standing on all four feet and is not leaning to one side.
2. Stand in front of the dog and hold its collar with one hand, while using your other hand to gently lift the dog's chin, so it is looking straight ahead.
3. Take a step back and use your free hand to gently lift the dog's front legs at the elbow, so they are perpendicular to the ground. Avoid pulling the legs out too far or overstretching them.
4. Next, use your hand to move the hind legs forward so that they are positioned slightly behind the front legs. The back legs should be positioned so that the hocks are perpendicular to the ground.
5. Once the dog is in position, use your hands to adjust the body and head to ensure that the dog is balanced and looks symmetrical.
6. Keep your hands on the dog until the judge has had a chance to examine it. You can also use a bait, such as a treat or a toy, to keep the dog's attention and maintain its focus.
Remember, it's important to practice stacking with your dog before the show to ensure that both you and your dog are comfortable with the process. Good luck!
---